Look Out Point Restaurant @ Jalan Ampang-Ulu Langat KL (CLOSED)
Saturday, August 25, 2007
I intentionally plan to arrive there early so that I can have a view of KL from sunset to night.
Upon arrival, we walked around the place to see what is available there. There have got three restaurants there.
This place is like
Genting Hill in Penang
and Phuket Hill in Phuket.
Directions :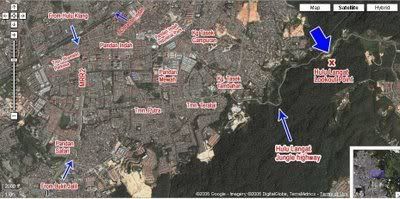 To goto LookOut Point Restaurant from MRR2
1. Exit the MRR2 at
Pandan Indah
(NOT Pandan Jaya) Interchange.
2. Go straight until the T-Junction. Turn right . Esso will be on your left
3. Take a left at the next traffic light
4. Take another left at the traffic light beside Puteri Plaza.
5. Turn right at the traffic light junction to Ulu Langat/Kajang
6. From this traffic light the road is winding for about 3 km.
7. Look out for the sign board "Menara Tinjau".
8. Will come across a food court on the right with carpark. Drive up the hill to the LookOut Point Restauran
To goto LookOut Point Restaurant from Jalan Ampang
1. Go all the way straight when Ampang Point is on your left.
2. You will pass by alot of shoplots, petrol stations , leng luis leng chais but just ignore them
3. After you pass by a police station on your right, start slowing down
4. Go all the way straight, there's a traffic light before heading more straight to Bukit Belacan and Bukit Indah, turn right at the traffic light.
5. Go all the way straight, till u see a traffic light with signboard Cheras Kajang Pusing Kiri, make a left turn.
6. Go all the way straight( not really straight coz it's like Akira Mountain road like that), for about 5km you can see a big pagar on your right, that's the way going up to Restaurant LookOut Point.
(Guide provided by cely, wingz and ckyeo)
It is a nice outing except that I had some problem (Not sure whether the foods here caused it). I will blog it in my next post.