Red Tea Junction( 红茶馆) Kung Fu Smooth Pan Mee @ Taman Sri Sentosa, KL
Sunday, October 14, 2007
Can you recognized this couple!!! Sure you can.They are the hosts for TV8
Hochiak
,
Rickman
& ??? Some weeks ago, I watched their
Hochiak
Show and I took pictures of them and this Pan
Mee
shop off the TV as I wanted to try it as it look so delicious.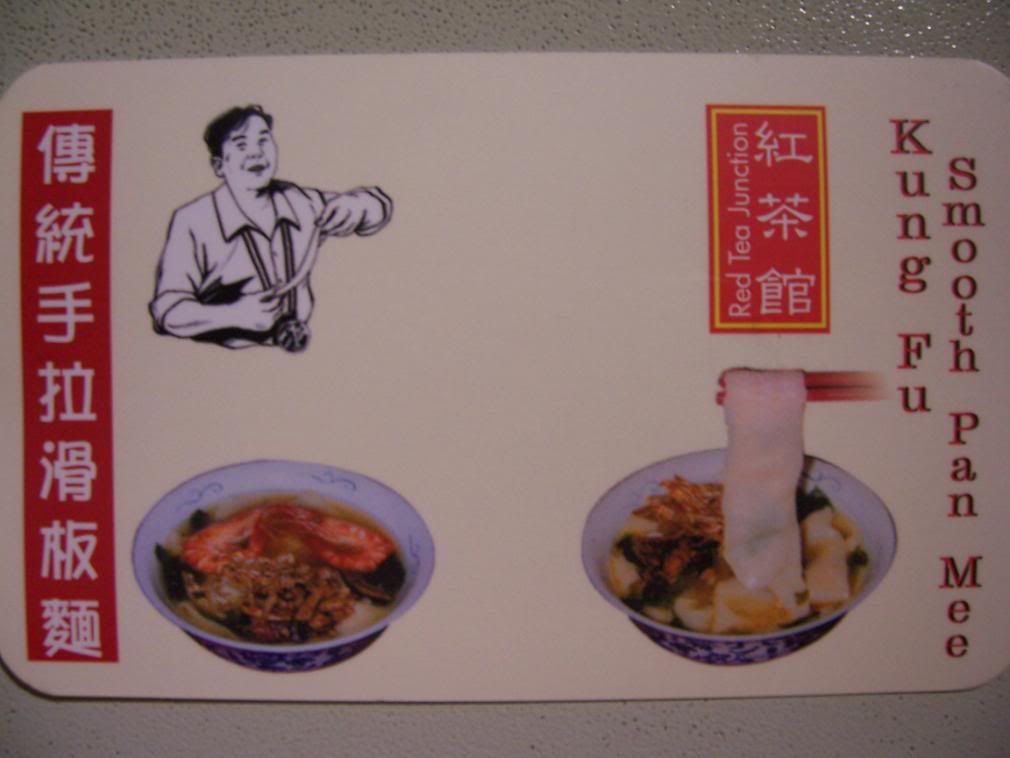 So this afternoon on the 2
nd
day of
Hari
Raya
Holidays, I intentionally make a trip to to
Sri
Sentosa
to find this shop. I was unable to find the shop during my 1st try and I stopped by to ask a Chinese man. He told me that if you are not familiar, it is hard to find and he gave me his direction to the shop as follows:
1) Look for the
Petronas
Station.
2) Opposite the road, there is a Magnum 4D shop
3) Park you car somewhere near the 4D shop and walk to the back of the 4D shop.
Following his
instruction
, I try a second time and sure enough it is easy only when you know the place. We found it and reached there around 1.50pm. The rain start to pour and they start keeping those tables and chairs placed outside. We managed to get a table as is was not so crowded at that time. It is just a small shop. But while we are eating, many customer came.
There is no signboard outside, you will have to look for this big Chinese sign.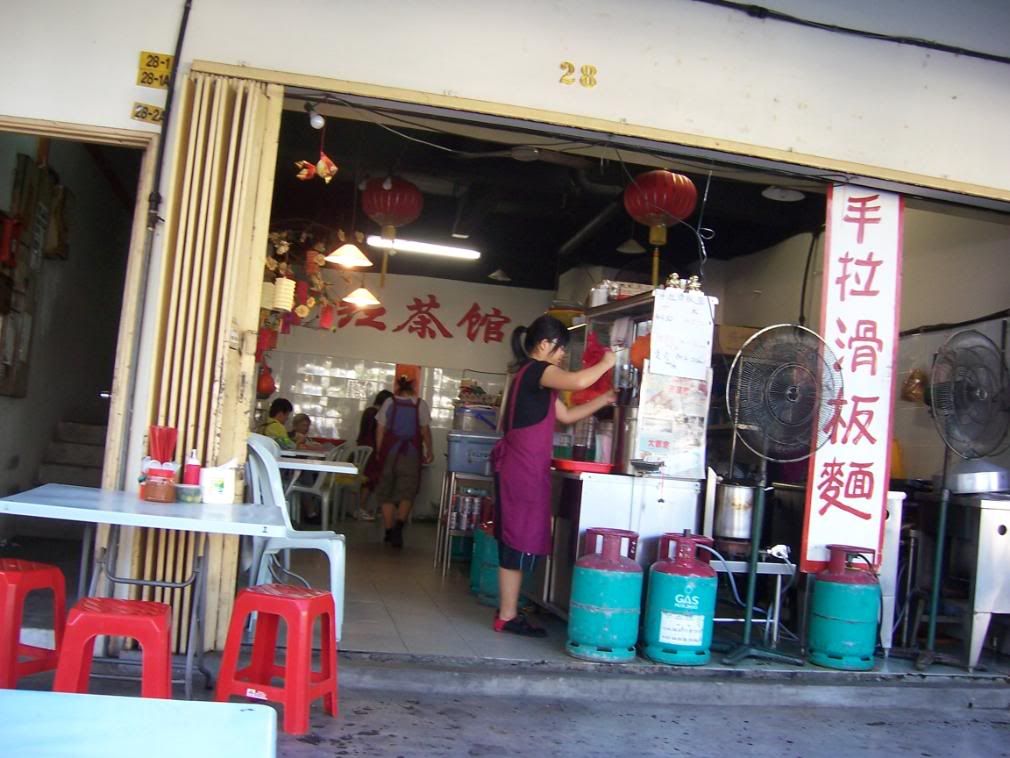 Newspaper reviews cuttings was placed on the walls and many other spots.
We ordered three small bowls of Pan
Mee
(Two Soup based and one Dry) . For drinks, they served Lo Hon
Ko
and Grass Jelly only. While waiting for the foods, they bring you their special
chilly
sauce and lime.
Service was fast and we got of food in less than five minutes. It costs Rm4.50 for small and RM5.50 for big bowl. You paid when food are served.
Below the dry one and it taste really delicious with right amount of sauce. The Pan
Mee
soft and smooth with generous amount of
Ikan
Bilis
and minced pork.
And the soup based one is equally delicious. Too good that we ordered an additional small bowl.
Thumb ups, this got to be one of the best Pan
Mee
around, I will
definitely
go back for more.
Look, the four bowls which we eat till clean.
A view of the shop from where I was sited. You can notice that it is not a big shop. I
believe
on normal day, the place is jam pack and you got to wait much longer.
Other dishes available are Fish balls, otak-otak, Pandan chicken, Hakka mee etc
Latest Update (Nov 17, 2007)
I have been there a couple of times after my 1st visit and this am again I went there, This place now has got a menu and name card. Below are copy of the name card which showed the map to this place. Hope this will be helpfui if you intend to go there.
Other Reviews:
Masak-Masak