Day 8: Swayambhunath Stupa, Kathmandu, Nepal
Wednesday, January 16, 2008
Day 8, we visited another magnificent sacred holy Stupa known as the Swayambhunath Stupa.
A golden spire crowning a conical wooded hill, Swayambhunath Stupa is the most ancient and enigmatic of all the holy shrines in Kathmandu valley. Its lofty white dome and glittering golden spire are visible for many miles and from all sides of the valley. Historical records found on a stone inscription give evidence that the stupa was already an important Buddhist pilgrimage destination by the 5th century AD. Its origins however, date to a much earlier time, long before the arrival of Buddhism into the valley. A collection of legends about the site, the 15th century Swayambhu Purana, tells of a miraculous lotus, planted by a past Buddha, which blossomed from the lake that once covered Kathmandu valley. The lotus mysteriously radiated a brilliant light, and the name of the place came to be Swayambhu, meaning 'Self-Created or Self-Existent'. Saints, sages and divinities traveled to the lake to venerate this miraculous light for its power in granting enlightenment. During this time, the Bodhisatva Manjushri was meditating at the sacred mountain of Wu Tai Shan and had a vision of the dazzling Swayambhu light. Manjushri flew across the mountains of China and Tibet upon his blue lion to worship the lotus. Deeply impressed by the power of the radiant light, Manjushri felt that if the water were drained out of the lake Swayambhu would become more easily accessible to human pilgrims. With a great sword Manjushri cut a gorge in the mountains surrounding the lake. The water, draining away, left the valley of present day Kathmandu. The lotus was then transformed into a hill and the light became the Swayabhunath Stupa.
Once again, we need to climb up the stairs that lead up to the stupa but this time we must not stop along the way. We are supposed to climb straight up to the stupa.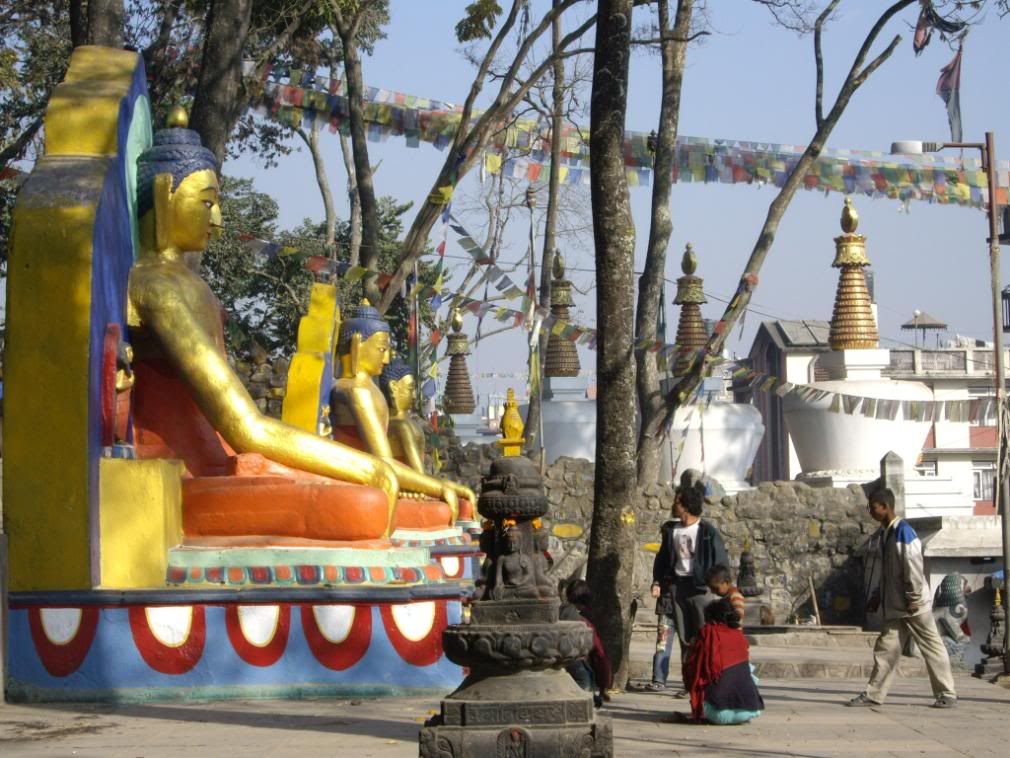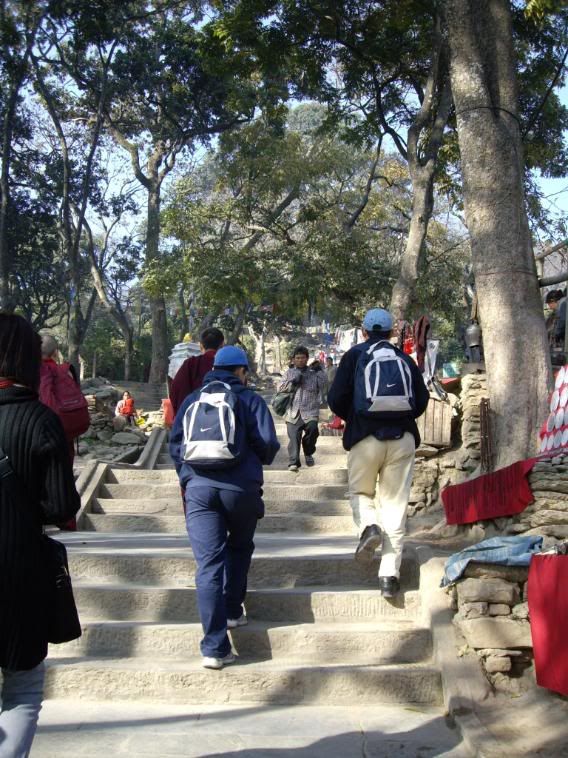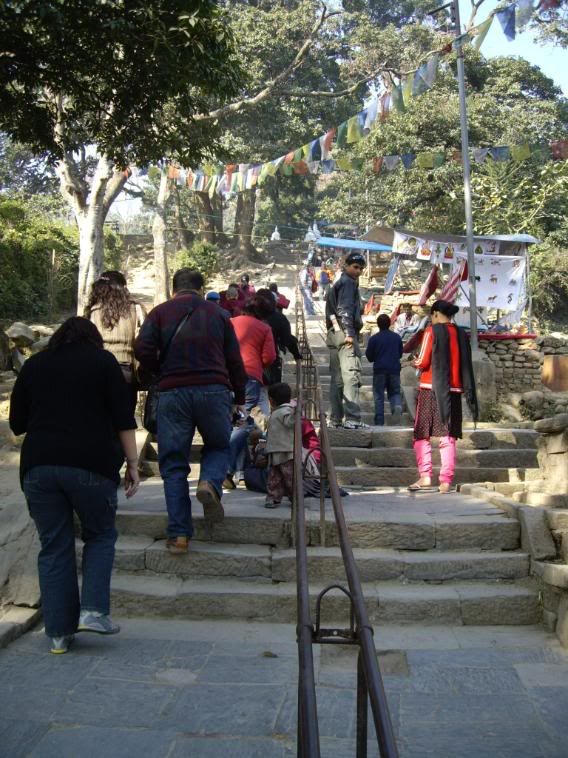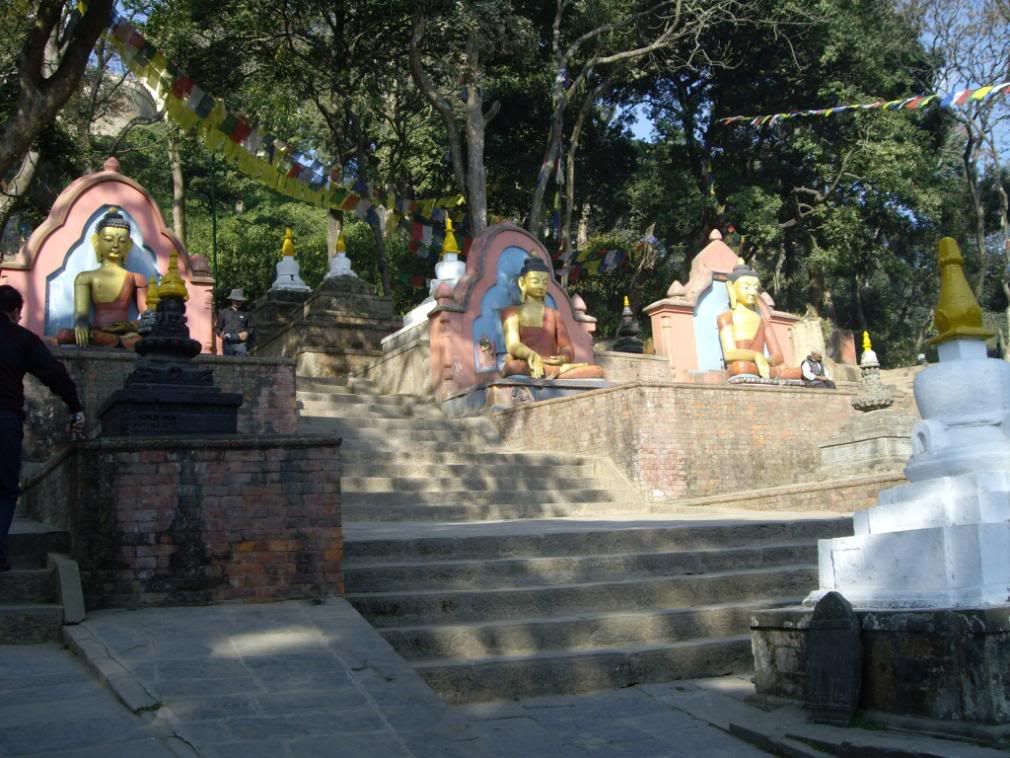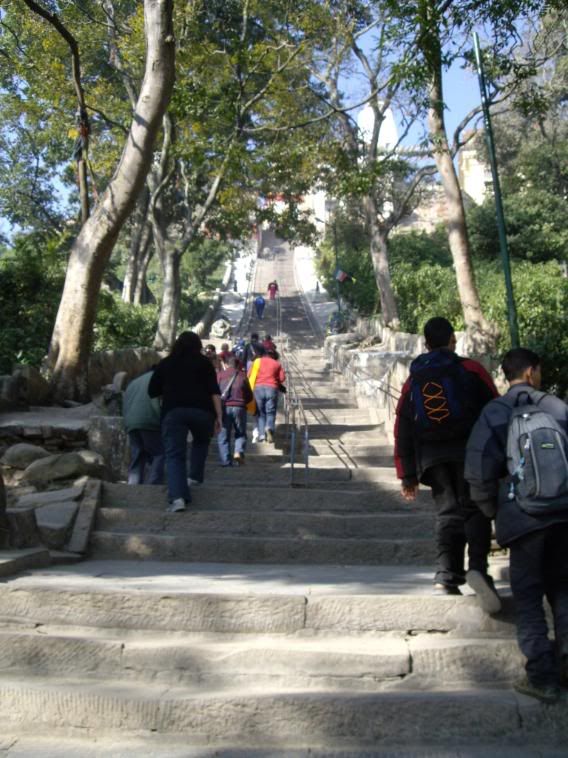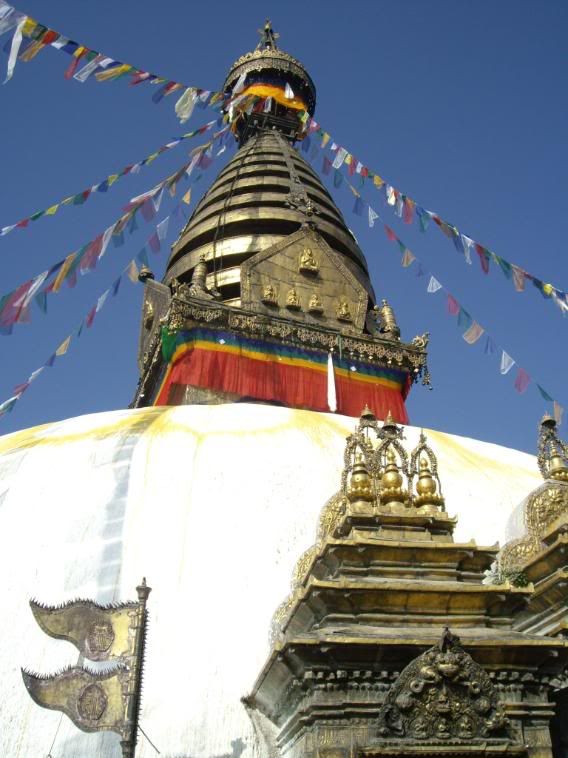 Upon reaching the top, there is abig vajra where we make our dedictations.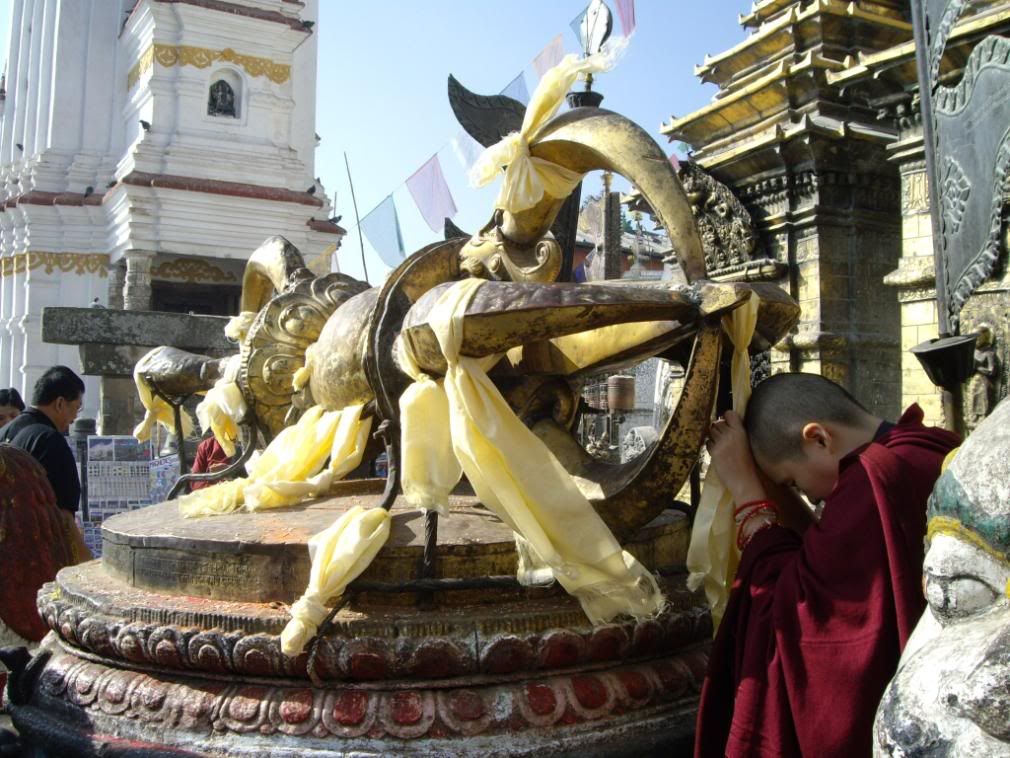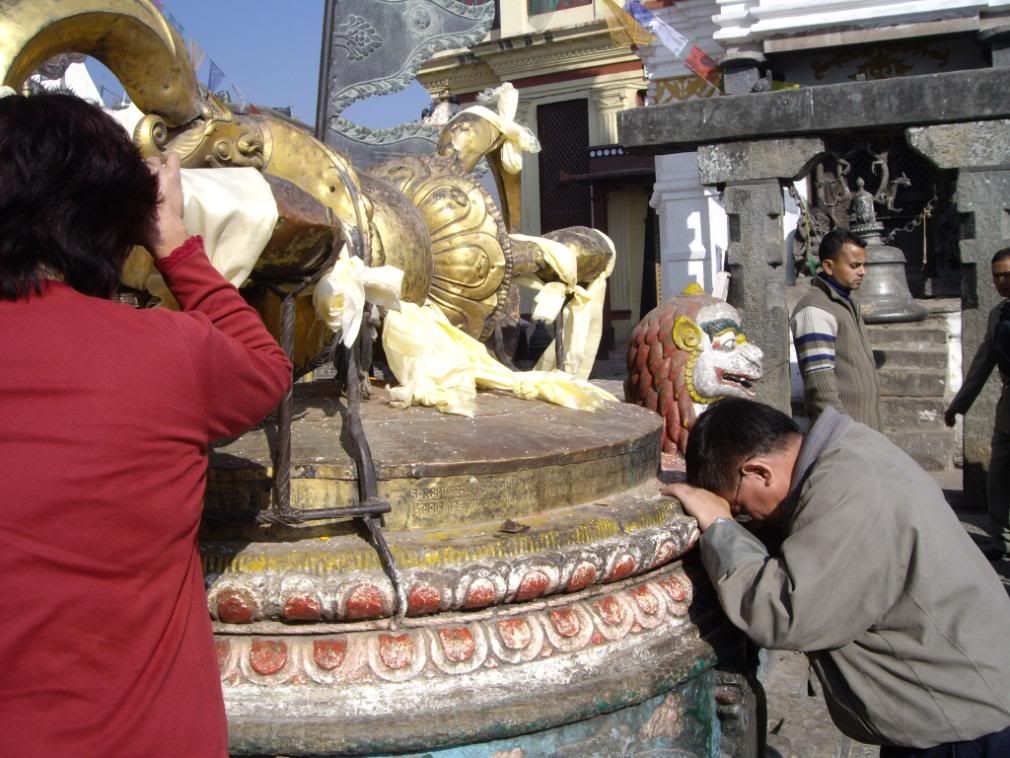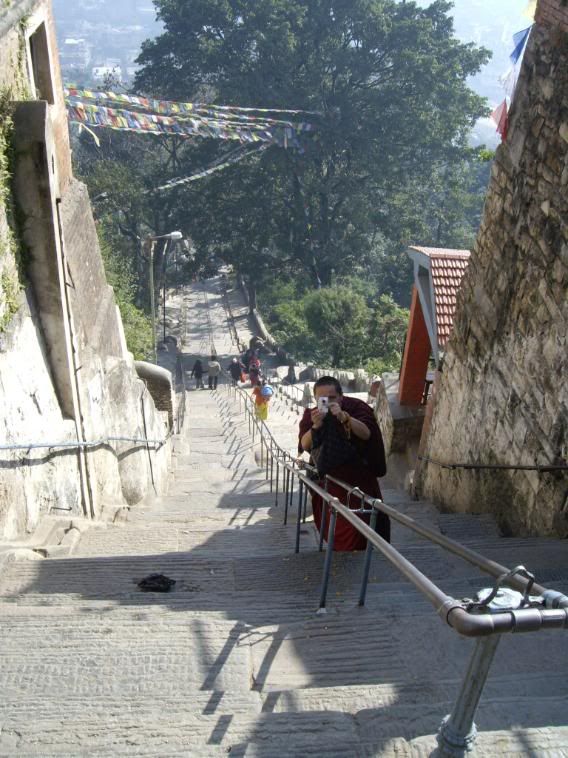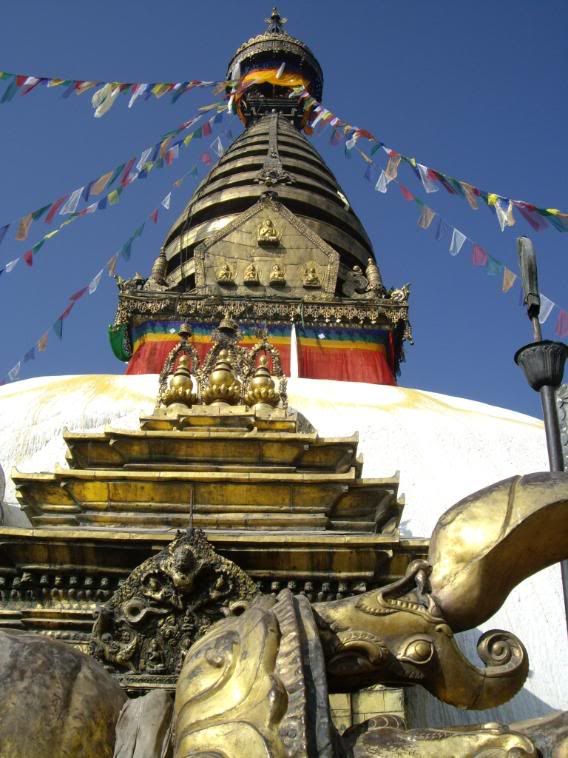 We circumbulate the Stupa as many times as we can.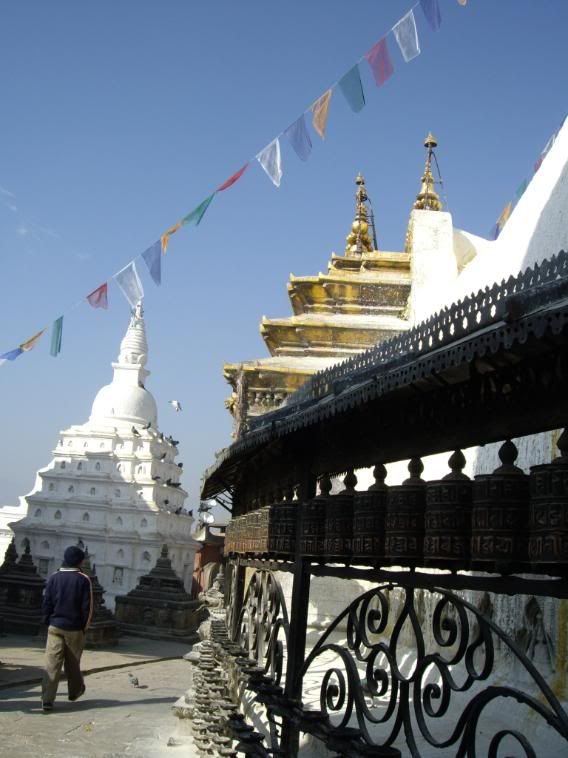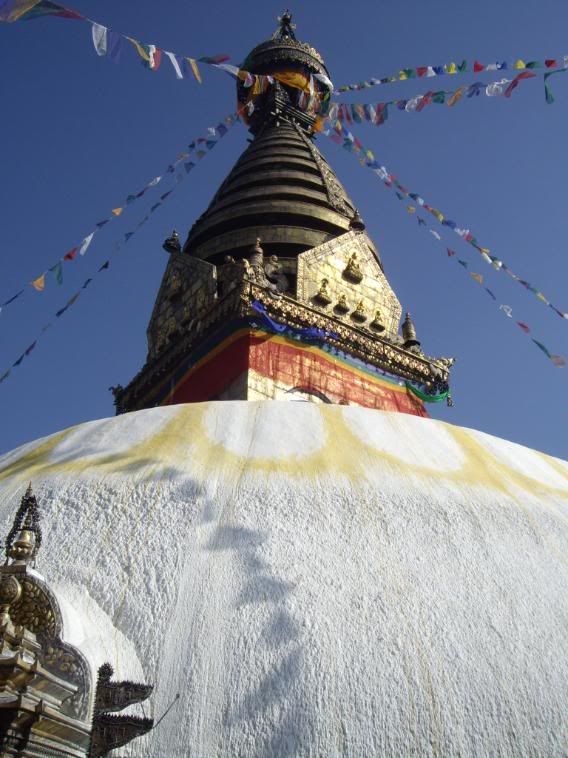 Atop Swayambhunath hill is another fascinating, though smaller and less visited temple. This is Shantipur, the 'Place of Peace', inside of which, in a secret, always locked, underground chamber lives the 8th century Tantric master Shantikar Acharya. Practising meditation techniques which have preserved his life for uncounted centuries, he is a great esoteric magician who has complete power over the weather. When the valley of Kathmandu is threatened by drought, the King of Nepal must enter the underground chamber to get a secret mandala from Shantikar. Soon after the mandala is brought outside and shown to the sky, rain begins to fall. Frescoes painted on the inside temple walls depict when last this occurred in 1658. The small temple has a powerful atmosphere; it is mysterious, stern and slightly ominous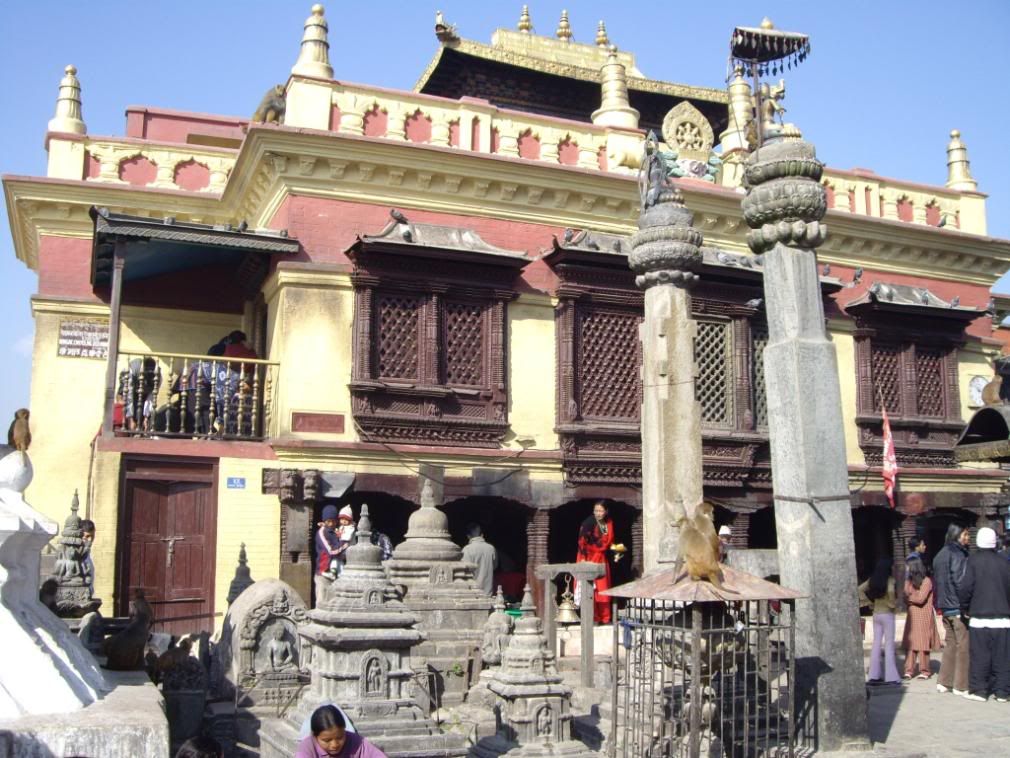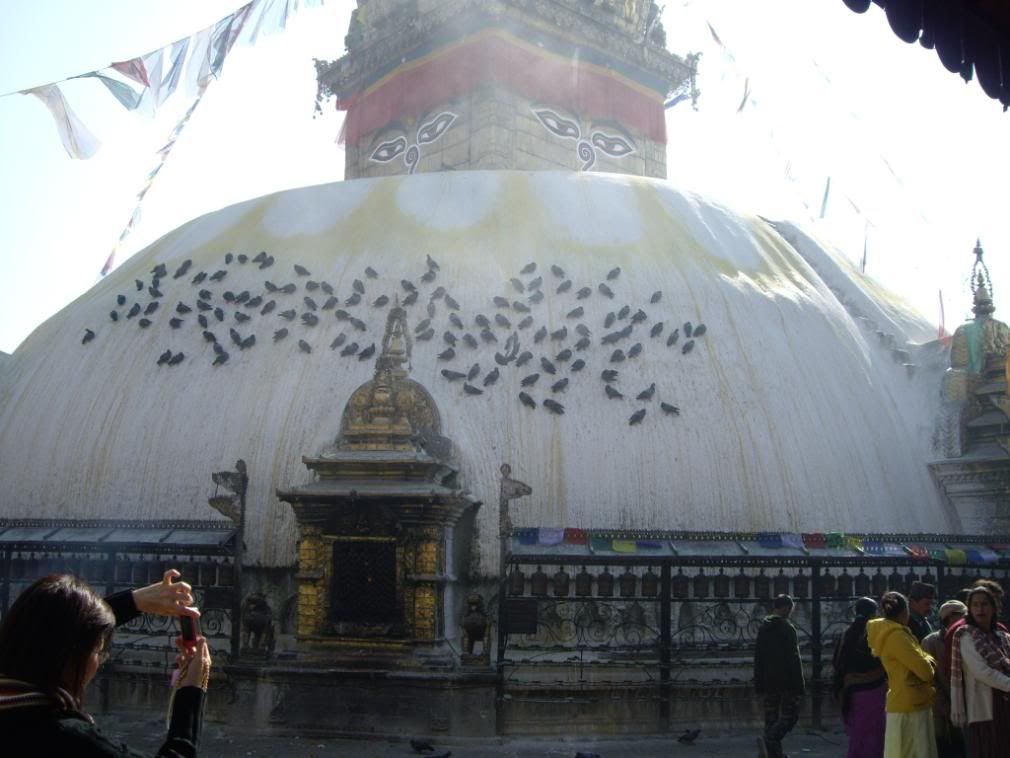 Prayer wheel are all around the stupa.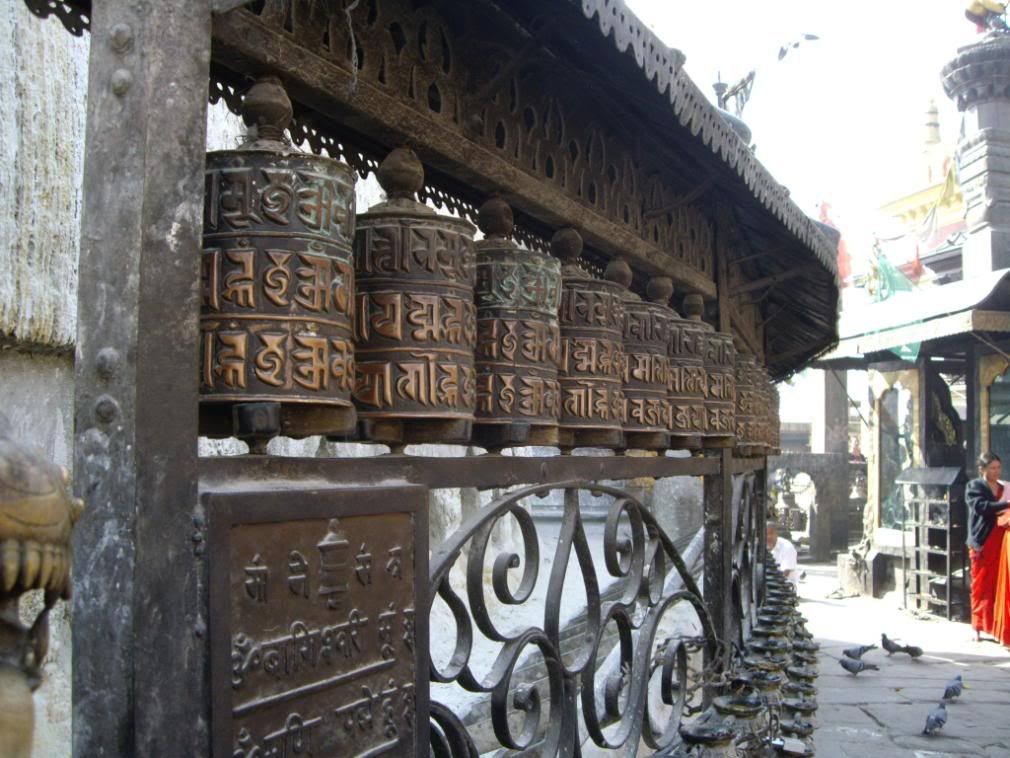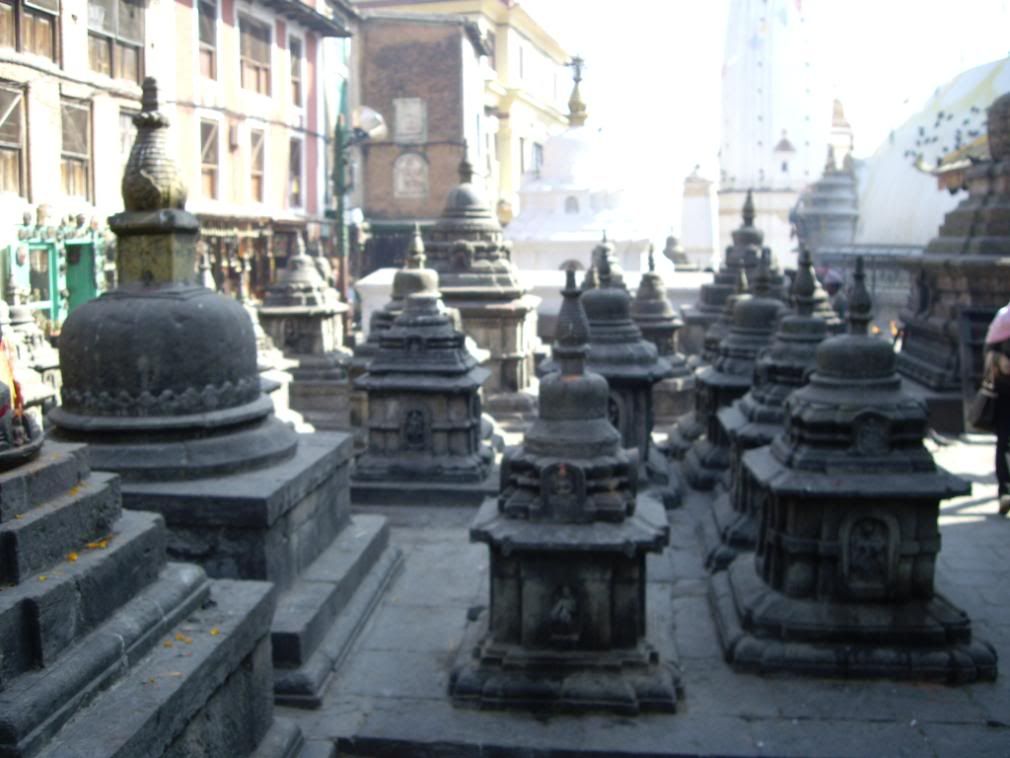 The view from the top is breathtaking too.